SOFT - The cover of thesis that never came to be (or too many chemicals here)
03 Apr 2015
Some time ago a coworker asked me to design the cover for his PhD thesis. After he explained to me about that was the thing, I could more or less understand that dangerous organochlorine compounds entered from one side and the magical zeolite destroys them to generate harmless CO2 and HCl spat from the other side.
I thought of composing a figure with all the chemicals that he had mentioned to me. And clearly to draw the zeolite would be a problem. By that time I was rendering all using povray.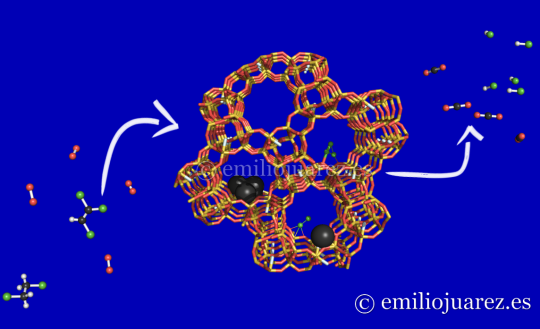 The discarded cover
The procedure I followed to compose the above figure was:
Later my colleague told me that on the upper floor had not liked the cover. Too many chemical compounds in the figure. He ended up placing a photograph with a swarm of pipelines as the cover because in fact it was a Chemical Engineering PhD thesis. But I learned the versatility of PyMOL to compose and render images.